January, '99:
For those interested, this site has been updated, and for what it's worth, things are changing around here. Explanations can be found by the intrepid, mostly having to do with painting again after a long hiatus, and a deep sense of dissatisfaction. All with a grain of salt.
But still, all sites are under construction.
At the moment, this site displays proposed sites and sites under construction, sites long defunct, as well as a peek at what I do (or have done). As with all things on the Web, all things change...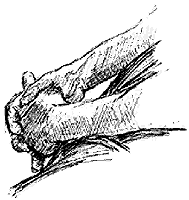 Jesse Clark - Studies in Mimicry A site based on the emerging work of a truly gifted Bay Area artist, who believes that we learn through imitation and meditation.

Coracle Poetry A site I'm proud to be helping out with. Contains information on some of the best poetry going on in the Bay Area.

lfino.com Heh, heh ... pronounced 'hellifiknowdotcom'. A work in progress...the place to go to find out about the less savory work of my aquaintances.

Corton Systems The skeleton of a page for Corton Systems, a company specializing in networking and network-related troubleshooting - long dead, and the gentlemen left town. At the moment, the site's content contains tongue-in-cheek jabs at a certain Mr. Gates. All in good fun.

Northern California Melanoma Center This was the proposed front page for one of the foremost centers for melanoma research.




---